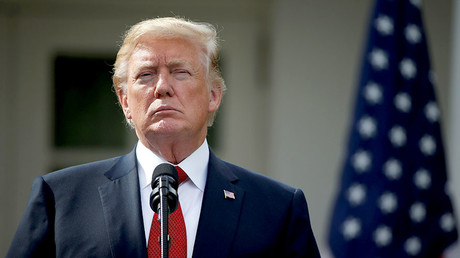 US President Donald Trump says he made it up. Others claim it's used by Russia to influence foreign elections. Today, 'fake news' became real news when it was named by Collins as the 2017 Word of the Year.
The usage of the term has risen by 365 percent in the past year, the dictionary says.
Defined as "false, often sensational, information disseminated under the guise of news reporting," the phrase 'fake news' will now be added to the next print edition of the Collins English Dictionary. It follows last year's definitive word, 'Brexit', which saw an unprecedented increase in use of more than 3,400 percent during last year's referendum.
Trump has used the term 'fake news' regularly and even claimed last week to have invented it. "The media is really, the word, one of the greatest of all [the] terms I've come up with, is 'fake' … I guess other people have used it over the years, but I've never noticed it," he said.
The etymology is disputed by the dictionary. Collins said 'fake news' started being used in the noughties on US television. Its usage has climbed since 2015, Collins claims, and really took off this year.
Other words on the 2017 shortlist included 'genderfluid', 'fidget spinner', and 'gig economy' – the term for a system of casual, unstable employment that firms like Uber and Deliveroo have normalized. 'Insta' – the abbreviated version of photo-sharing app Instagram – and 'unicorn', a recently-launched business enterprise that is valued at more than US$1 billion, were also on the list.
Significant terms from the last 12 months also include 'antifa', an abbreviation of anti-fascist; 'echo-chamber' to describe opinions being reinforced through social media; and 'Corbynmania' – a fervent enthusiasm for British leader of the opposition Jeremy Corbyn. The shortlist also featured 'cuffing season', which means the period of autumn and winter when single people are considered to seek settled relationships rather than engage in casual affairs.
These new words and meanings will be added to CollinsDictionary.com, and considered for inclusion in future print editions of the lexicon.
Helen Newstead, head of language content at Collins, said much of this year's list is "politically charged."
"With a new president in the US and a snap election in the UK, it is perhaps no surprise that politics continues to electrify the language. 'Fake news', either as a statement of fact or an accusation, has been inescapable this year, contributing to the undermining of society's trust in news reporting," she said.
Via RT. This piece was reprinted by RINF Alternative News with permission or license.