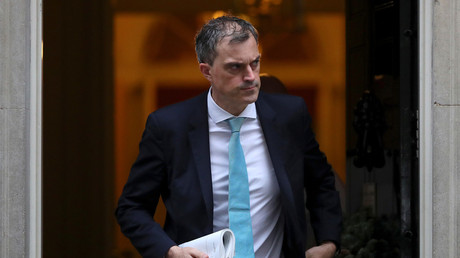 There are calls for Julian Smith, the Tory Chief Whip to resign following claims he urged three Conservative MPs to 'defy pairing deals' in order to win a knife-edge Brexit vote on Tuesday, breaking parliamentary convention.
Pairing is a parliamentary convention by which pairs of MPs on opposing sides of the House of Commons agree not to vote so that being absent due to reasons such as being on maternity leave, like Lib Dem MP Jo Swinson, does not count against that member.
On Tuesday she announced on social media that she would be paired with Tory MP and party chairman, Brandon Lewis for the crucial Brexit vote (New clause 18) on a free trade area and customs union with EU, which the government subsequently won by a margin of 6 votes.
It now transpires that, according to a witness, Smith summoned Lewis before the crucial vote to tell him to breach the pairing deal between himself and Swinson to vote with the government, because it would be a very close vote, the Times reports.
Furthermore, it's claimed that Smith urged two other Tory MPs that had been paired, to vote on new clause 18 – both sought clarification and ignored his instruction, according to the Times.
READ MORE: 'Almost Stalinist': Labour Brexiteer Kate Hoey lashes out at EU
The paper reports one Tory MP as saying: "This suggests a worrying pattern of behaviour and could amount to a breach of trust."
The revelations has sparked condemnation from those on social media. MPs and political commentators have called on Smith to resign, with some insisting he should be sacked if he doesn't walk himself.
MPs such as Labour's deputy, Tom Watson who insists: "If true, this is despicable behaviour which makes politics even more inaccessible for women. If true, Julian Smith must resign, or be sacked."
Watson's sentiments were echoed by Dawn Butler, Labour's shadow women & equalities secretary tweeting "If these reports are correct, the Tory whips, Brandon Lewis and the Prime Minister have been telling untruths about their shocking move against an MP on maternity leave."
The story appears to contradict the narrative previously given by Smith and Lewis, who both insisted that it had been a "mistake" in apologetic tweets sent to Swinson, following the critical Brexit vote on Tuesday.
Prime Minister Theresa May said on Wednesday that the failure to honor the pairing convention was not "good enough" but wouldn't commit to introducing rules to establish a system of voting during maternity leave.
Think your friends would be interested? Share this story!
Via RT. This piece was reprinted by RINF Alternative News with permission or license.