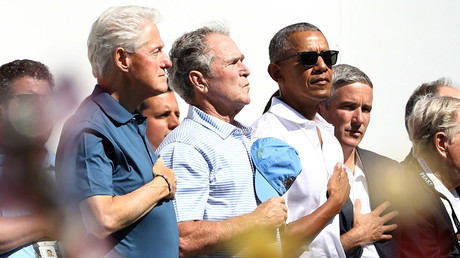 The last two presidents will campaign on behalf of their respective party nominees in Virginia's gubernatorial race this month. The result in this swing state, with its liberal north and conservative south, could be a verdict on Trump's presidency.
Former President George W. Bush will hold a fundraising for Gillespie, the Republican nominee, on October 16 in Richmond and Alexandria. Invitations for the event range from $150 for general admission to the reception to $100,000, which includes a photo with Bush and two tickets to a private reception, according to The Hill.
Former President Barack Obama will stump for Ralph Northam, the Democratic nominee. He will hold public events with Northam. Details are still being worked out, a spokesman for Obama said.
A new Washington Post/Schar School poll released Thursday showed Lt. Governor Ralph Northam (D) leading Ed Gillespie (R) 53 percent to 40 percent among likely voters, according to WTOP.
Gillespie and Northam are considered centrists. When violence broke last month in Charlottesville, both men denounced the racists and neo-Nazis  who paraded through the streets.
https://t.co/3FQg59nIT7🇺🇸🇺🇸President Trump is endorsing the Republican candidate for Governor in the Virginia race, Ed Gillespie. Gillespie has strong Republican support around the country and will help #MAGA as he supports the conservative agenda.🇺🇸

— Diane Boyd (@Boyd_2650) October 6, 2017
Top issues for registered voters in the poll were health care and the economy, followed by education and illegal immigration. Only 3 percent said Confederate monuments were most important.
Previous polls showed Northam leading Gillespie by a narrow margin and psephologists believe the race will be close. Northam has a fundraising advantage.  
Both presidents are popular in the state and carried Virginia in all four of their respective bids for the presidency. It is a centrist state with voters divided between northern Democratic-leaning urban and suburban areas, and southern region of heavily Republicans exurban and rural ones, according to the Washington Post.
Gillespie and Bush go back decades, with Gillespie serving as his communications director during his 2000 campaign for president, then as Chairman of the Republican National Committee in the run-up to Bush's 2004 re-election bid.  He also served as a senior White House counselor during Bush's last two years in office.
Northam has less of a connection with Obama, though the former president campaigned with Democratic Governor Terry McAuliffe in the 2013 election, and he picked another former Virginia governor, Senator Tim Kaine (D) to run the Democratic National Committee during his first years in the White House.
Governor McAuliffe is not eligible to run for re-election due to term limits established by the Virginia Constitution.
President Donald Trump has already weighed in behalf of the Republican candidate, Gillespie, while besmirching the Democratic candidate, a currently serving Lieutenant Governor, for allegedly standing up for MS-13 gangs and sanctuary cities.
"Ralph Northam, who is running for Governor of Virginia, is fighting for the violent MS-13 killer gangs & sanctuary cities," tweeted Trump on Thursday.  "Vote Ed Gillespie!"

Ralph Northam,who is running for Governor of Virginia,is fighting for the violent MS-13 killer gangs & sanctuary cities. Vote Ed Gillespie!

— Donald J. Trump (@realDonaldTrump) October 6, 2017
Via RT. This piece was reprinted by RINF Alternative News with permission or license.