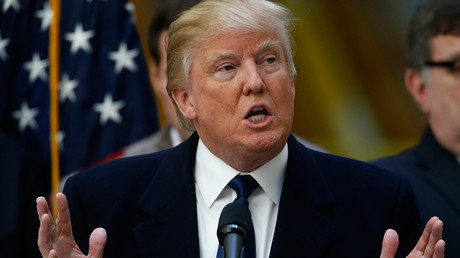 Muslims in Britain are not reporting terrorism suspects to UK authorities, US presidential hopeful Donald Trump said on Tuesday, as he vowed to "hit ISIS so hard you wouldn't believe it" if elected to the White House.
The front-runner for the Republican nomination sparked anger across the UK after he told ITV's Good Morning that British Muslims were not doing enough to stop attacks like Tuesday's brutal bombings in Brussels from taking place on British soil.
"When they see trouble they have to report it. They are not reporting it. They are absolutely not reporting it and that is a big problem," he said on Wednesday.
Thirty-four people died and at least 240 were injured after twin bomb attacks hit Brussel's main airport and a Metro station on Tuesday morning. Islamic State (IS, formerly ISIS/ISIL) claimed responsibility for the attacks, which took place days after a major anti-terrorist raid in the city.
In response to Trump's claims, Asim Qureshi, Research Director at human rights group CAGE told RT that while Trump's influence is limited in the UK, British politicians are "just as guilty" of making Muslims feel alienated.
"British Muslims largely do not pay much attention to the scaremongering of Donald Trump in the US. The political environment in the US is starkly different than that of the UK and Trump's brand of demagoguery is easy to spot and call out," he said.
"Of course, what is particularly dangerous is the way in which our own politicians in the UK are just as guilty of making unsubstantiated remarks about British Muslims, without ever providing any evidence. We are concerned such American styles of sweeping statements are becoming increasingly common, particularly among members of this Conservative government."
Trumps remarks come after a petition in Britain reached more than 500,000 signatories to have him banned from the country after he claimed that London was "so radicalized" police were scared to enter some boroughs.
Speaking to ITV on Wednesday morning, the controversial Republican front-runner said: "I would hit ISIS so hard you wouldn't believe it and I would get the people over there to put up their soldiers because it's about time that somebody did it.
"But I would have such back-up like you've never seen before in terms of air power, airstrikes etc."
Trump added that Muslims were protecting each other across the globe, which could lead to more attacks.
"It's like they are protecting each other but they are really doing very bad damage. They have to open up to society, they have to report the bad ones," he said.
"And, you know, if you report the bad ones, all of a sudden you are not going to have the problems."
Via RT. This piece was reprinted by RINF Alternative News with permission or license.