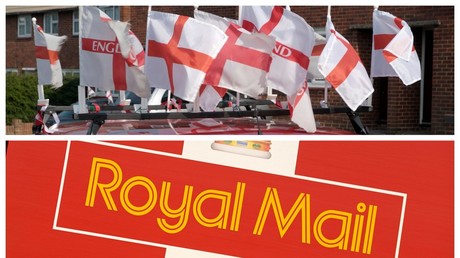 Royal Mail postal workers have reacted with fury to their head office's decision to not allow England flags and stickers to be displayed on their vehicles during the World Cup for fears of "health and safety."
The edict will prevent all of the firm's 125,000 staff from hoisting the St George's Cross from their trolleys, bikes, vans and lorries while doing their rounds for fear that they will blow off and injure members of the public.
Previously enforced during for the 2014 tournament hosted in Brazil, the policy has been described as "bonkers" by staff, who were quick to highlight that other vehicles are allowed car flags without causing any accidents.
Speaking on the rule, one London postman said: "It's bonkers, frankly. Many posties are football fans and want to show their support for England – but we're not allowed to do so."
READ MORE: Police warn English fans – don't instigate violence by waving St George's flag at World Cup (VIDEO)
"Other vehicles use car flags without causing accidents, so why are we any different? Royal Mail drivers will be angered," another van driver added.
The outrage spread to some familiar politicians, Tory MP Jacob Rees-Mogg groaned when asked about the issue by the the pro-Brexit Leave.eu. Trivializing the Royal Mail's motives, Rees-Mogg asked "does the post office want to get in the news for some reason, in a bad way?"
"Every time there is a World Cup, or an event like this, some silly bureaucrat in some business comes up with an idea like this. They'll back down within 48 hours," he continued.
Across the political divide, Labour MP John Speller called the move "absolutely astonishing," urging the bosses of the public limited company to "get real and join their workers in backing England."
However, the Royal Mail is not budging on its policy. Speaking on the matter, a spokesperson said: "It's a company-wide policy across the business which covers flags and stickers and covers trollies, bikes, vans and lorries.
'No other flag or insignia should be carried next to the Royal Mail brand and insignias."
Disgraceful treachery from Royal Mail: the day the #WorldCup starts they ban posties from flying the St George's flag under the veil of health & safety. Why is our flag seen as a source of shame? https://t.co/q0dZ7Wb5wD

— Martin Daubney (@MartinDaubney) June 14, 2018
On dangers flags can pose to the public, the company said they can "pose a hazard to other road users if they are lost when the vehicle is moving. 'We want our colleagues to have every opportunity to follow the World Cup but we need to continue to provide services to customers.
The Flag of St George is the
flag of England, a major part of the Union Jack.
The Queen of England owns the Flag of St George, so how can the Royal Mail and other misguided authorities ban the Royal Flag.
It's pure treachery and the people instituting the ban are TRAITORS.

— Ben (@nomad738) June 14, 2018
Instead, England-supporting staff at the Royal Mail will have to make do with flags on display at their offices while live radio commentary on PA systems will be provided during their matches
If you like this story, share it with a friend!
Via RT. This piece was reprinted by RINF Alternative News with permission or license.