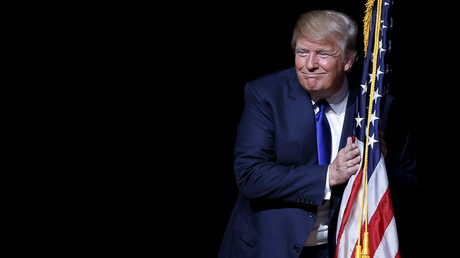 As last man standing in the race to become the Republican presidential nominee, Donald Trump has said he wants to tax the country's rich, but conveniently expects Democrats to ruin his plans.
Trump wants to reform the current US tax system to include only four brackets and eliminate income tax for 75 million households – individuals who earn less than $25,000, and families who collectively take home less than $50,000.
As part of his quest for the White House, the Republican also intends to reduce the highest tax rate of 39.6% – which he himself pays – to 25%.
However, in an appearance on NBC's Meet the Press program on Sunday, Trump appeared to try to distance himself from suggestions that his policies might stuff the pockets of the rich even fuller.
"For the wealthy, I think frankly it is [taxes] going to go up, and you know what, it really should go up," he told NBC's Chuck Todd, while defining "wealthy" as someone with a similar income to himself.
Last year, the independent Tax Policy Center carried out an analysis of the plan.
Researchers stated that while Trump's policies would significantly reduce the tax burden on individuals and businesses, it would also result in a $9.5 trillion loss in tax revenues, with the highest earners gaining the most.
However, Trump argued that his tax policies were merely "a floor" for negotiation, adding that lowering taxes is likely to be fought by Congress.
"But I have no illusions – I don't think that is going to be the final plan because they are going to come to me, including the Democrats and everybody else, and they are going to want to negotiate.
"When it comes time to negotiate, I feel less concerned with the rich than I do with the middle class."
Questioned by Todd as to why he was so open to negotiation, the sole Republican candidate said it was part of life.
"It's called life, Chuck… People can say it is a tax plan, but it is really a tax proposal, because after I put it in… the Senate and Congress start to work with you and they start fighting."
He said senators and congressmen were likely to want tax breaks for the rich more than anyone else.
On the topic of the US minimum wage, Trump rowed back from comments he made last year when he said wages were "too high"and that the rate should not change.
"I have seen what's going on and I don't know how people make it on $7.25 an hour. With that being said, I'd like to see an increase of some magnitude, but I'd rather leave it to the states," he said.
Paul Ryan blindside
To date, many top Republican figures have held back from endorsing Trump, despite the fact that he is their only remaining candidate left in the nominating race.
In an unusually reserved interview, Trump admitted that he was "blindsided" by House of Representative speaker Paul Ryan, who said he wasn't ready to support him.
"Yeah I was blindsided a little bit, because he spoke to me three weeks ago and it was a very nice call, a very encouraging call. He called me, I think to congratulate me about New York, because I won by massive numbers.
"But I have a nice relationship with him," he continued, "then all of a sudden he gets on and he does this number. So, I'm not exactly sure what he has in mind."
'Ungrateful' Romney
Speculation is mounting that former presidential nominee Mitt Romney might be parachuted in as an independent candidate.
In the face of such rumors, Trump labelled Romney "ungrateful," saying he had helped the ex-governor of Massachusetts "win five states he was going to lose" back in 2012.
"He was ungrateful, which is okay, a lot of people are ungrateful… let's see what happens," he added.
Romney is believed to have met with conservative political analyst William Kristol to discuss the possibility of entering the race to challenge Trump, the Washington Post reported.
Via RT. This piece was reprinted by RINF Alternative News with permission or license.