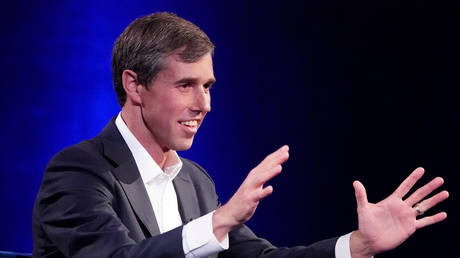 Beto O'Rourke, America's favorite oversharing Senate candidate, is striding into the 2020 race with a glamorous photo shoot and a low-key text message – except his fanbase seems to have moved on to the next hot young thing.
Beto O'Rourke nearly stole Ted Cruz's Senate seat during the 2018 midterms in a race that saw mainstream media lavish him with favorable coverage, running gushing stories on his band, his baseball team, even his tendency toward excessive sweating. While a win would have turned the Texas seat blue for the first time in 30 years – an accomplishment by any measure – the fawning media attention, and the millions of dollars in donations it spawned, should have given him the edge in wresting the seat from the charisma-challenged Republican incumbent's grasp.



Also on rt.com
'I'd take the wall down': 2020 hopeful O'Rourke says he'd 'absolutely' knock US-Mexico barrier




But if at first you don't succeed, try, try again. Like Joe Biden – another also-ran touted as the Great White Hope for Democrats in 2020 – O'Rourke has been teasing his candidacy for months, giving interviews long on dime-store philosophy ("I think that's the beauty of elections: You can't hide from who you are") and short on actual policy to Oprah and MSNBC's Chris Hayes  following a brief period of soul-searching during which the media seemed to fall out of love with his tabula-rasa essence. A glamorous Annie Leibovitz Vanity Fair photo spread – actual tagline: "Man, I'm just born to be in it" – sealed the deal on Wednesday, and that same afternoon, he confirmed to El Paso, Texas station KTSM that he was, in fact, running.
Twitter was nonplussed, Beto-mania having apparently run its course during the midterms.
Many feared his appeal was irretrievably linked to the fact that he was running against Cruz.
While no expense had apparently been spared for his Vanity Fair debut, he was thoroughly upstaged by his dog.
The magazine profile hammered O'Rourke's "relatability" to the point of parody, inviting ridicule (He likes The Clash! He swears in front of his kids, then apologizes! He has, direct quote, "a healthy skepticism of the mainstream!")
Journalists couldn't decide which moderate centrist he reminded them of the most.
And even the people hyping the Democrats' latest boy wonder candidate seemed to feel a bit silly doing it.
…but when you've already Instagrammed video of yourself at the dentist, where do you go from there?



Also on rt.com
Beto's dental cleaning & Navarro's nail file: US immigration debate takes crazy turn




Helen Buyniski, RT
Think your friends would be interested? Share this story!
Via RT. This piece was reprinted by RINF Alternative News with permission or license.