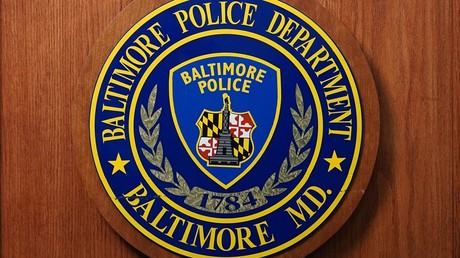 Two Baltimore, Maryland police detectives were convicted of racketeering and robbery after drug dealers testified they used seized weapons to steal narcotics. Prosecutors accused the officers of playing "both cops and robbers."
Officers Daniel Hersl and Marcus Taylor, once members of Baltimore Police Department's Gun Trace Task Force, were found guilty by a jury on Monday. They had pleaded not guilty to charges of racketeering, extortion and using a firearm in a violent crime. In a number of alleged incidents, the officers are said to have sold guns and drugs on the streets, stole from drug dealers, and jailed innocent people.
READ MORE: American decline: Open pools of raw sewage in the richest country in the world
The pair's defense was somewhat undermined by evidence supplied by six other officers, and former members of their alleged gang, who have pleaded guilty to similar charges.
"What is nauseating and deplorable is not that it was exposed in court, but that they did those things," federal prosecutor Leo Wise told the jury in his closing remarks, according to WBAL-TV, adding that members of the now-defunct Gun Trace Task Force had been caught playing "both cops and robbers."
Jenifer Wicks, the attorney for Taylor, told the court that she believed the government had built its case on witnesses taken "taken from the depths of the criminal underworld."
According to the Baltimore Sun, small-time drug dealer Sergio Summerville told the court that Hersl, Taylor, and three other officers took more than $2,000 after confronting him in the storage unit where he kept his stock in September 2016.
In another incident, task force members are alleged to have entered the home of another drug dealer, Oreese Stevenson, without a warrant before breaking into a safe and stealing $100,000. Stevenson told the federal grand jury he had 10 kg of cocaine in the house that was also taken.
The convictions are just the latest alleged incidents to erode trust in Baltimore police in recent times. Last month, a police officer was indicted by a grand jury for allegedly planting drugs during an arrest. The incident was captured by the officer's bodycam.
READ MORE: Caught on bodycam: Baltimore cop indicted for planting drugs
In April 2015, there were widespread protests across the city following the death of Freddie Grey, a 25-year-old black man who fell into a coma after being transported unsecured in the back of a Baltimore police van. While six officers were indicted, charges were eventually dropped against all of them.
Like this story? Share it with a friend!
Via RT. This piece was reprinted by RINF Alternative News with permission or license.