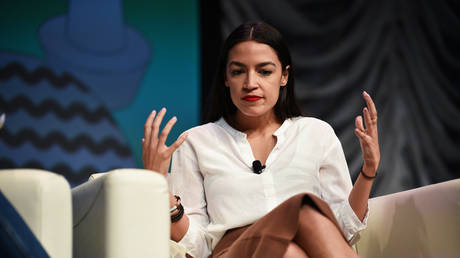 Democrat Alexandria Ocasio-Cortez tweeted an irate stream in response to a Fox show guest who mocked how she pronounces her name and for the media outlet apparently repeatedly getting her surname wrong.
During a segment on her show on Wednesday, Fox host Laura Ingraham suggested that AOC put on an accent whenever she introduced herself. The show's guest Joe Digenova added, "she does the Latina thing", before he put on an exaggerated accent and said her name (and initially mistaking her first name).
READ MORE: Alexandria Ocasio-Cortez to star as 'butt-kicking' political superhero in new comic book
Hitting back at both Ingraham's show and Fox in a Twitter thread, AOC remarked that "Fox News likes to say my name (incorrectly) as "Cortez," which I can only imagine is bc that sounds more 'stereotypically' Hispanic + probably incites more 'anxiety' for them."
Reiterating that her surname is Ocasio-Cortez, the New York Representative commented: "No, you can't say "Cortez." I've never used that in my life. "Cortez" is referring to someone else."
AOC was also quick to strike back over the "Latina thing" remark:
The surname debacle drew heated responses on Twitter, with many posting messages in support of AOC and criticizing the show and the station for the comments:
Many others, though, criticized Ocasio-Cortez for what they saw as her over-reaction to the comments, saying she should grow up and focus on something more worthwhile.



Also on rt.com
Did she call America 'garbage'? Provocative interview with AOC sparks Twitter fisticuffs




Like this story? Share it with a friend!
Via RT. This piece was reprinted by RINF Alternative News with permission or license.