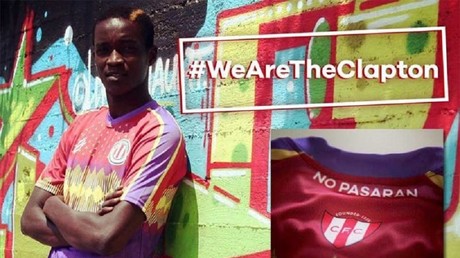 A non-league English football club has sold out of their new away kit, making them £60,000 in sales, after launching a shirt which features an anti-fascist slogan to commemorate the end of the Spanish Civil War.
Clapton Community FC, a club based in Walthamstow, east London, play in the Middlesex Counties League 1, the 12th tier of English football. The club told fans on its website that "most of the demand has come from Spain."
The club put this down to the design of the kit which contains the "colours of the International Brigades, who joined the fight against fascism in Spain during the Civil War of the late 1930s."
The last 48 hours has been amazing: over £60,000 in orders for our shirts, mostly from Spain. We are trying hard to answer (and often first translate) everyone's questions, so please stay patient – our organising committees will reply to you as soon as possible #WeAreTheClapton

— Clapton CFC (@ClaptonCFC) August 28, 2018
A massive shout out to all our new Spanish friends, from Vallecas in Madrid to Bilbao, Cadiz and Valencia, as well as across Catalonia and Euskal Herria

— Clapton CFC (@ClaptonCFC) August 27, 2018
Clapton CFC told fans: "Commemorating the 80th anniversary of the end of the Spanish Civil War, it is inspired by the flag of the Spanish Republic and is adorned by the three-pointed star of the International Brigades…"
The shirt which the club describes as "something a little more out there," features the words "No Pasaran," meaning "They shall not pass" – a phrase first used during WWI and then adopted by those fighting the forces of Spain's military dictator General Francisco Franco's between 1936 and 1939.
The club has been overwhelmed with an unprecedented surge of orders – so much so that they have increased prices from £25 to £30 to help fulfill "tax obligations."
The club's website also crashed, forcing them to tweet in Spanish to communicate with their new-found customers, according to the Daily Mail.
The shirts are made in Italy by Rage Sports, which the club says is "a small, ethical manufacturer with material meticulously sourced from companies that pay their workers fairly."
Like this story? Share it with a friend!
Via RT. This piece was reprinted by RINF Alternative News with permission or license.