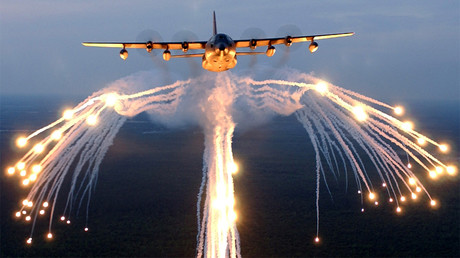 When the Pentagon posted some war porn on Twitter it should have been prepared for a major backlash, especially when using the nickname 'Angel of Death,' which formerly belonged to infamous Nazi doctor Josef Mengele.
The tweet, posted on February 28, has garnered over 5,000 retweets and almost 14,000 likes. However, the discussion in the comments section below the tweet made for some awkward reading for the US Department of Defense's social media manager.
"Her-cu-les, Her-cu-les! You don't want to be on the receiving end of this gunship, aka the Angel of Death," the US Department of Defense tweeted. Judging by the reaction though, the vast majority of Twitter users who engaged with the post weren't feeling so gung-ho about US foreign policy and the machines used to carry it out.
Repeated reference was made to a botched airstrike carried out by an AC-130 in which a Médecins Sans Frontières (MSF, or Doctors Without Borders) center in Kunduz, Afghanistan, was bombarded for almost 30 minutes straight on October 3, 2015, reports Ars Technica. The strike killed 30 patients and staff and injured a further 34.
Commander of US Forces in Afghanistan at the time, General John F. Campbell, described the incident as "a tragic, but avoidable accident caused primarily by human error." Netizens weren't prone to forget this either.
Haha killing foreign people under guise of "defense" is so cool! Good thing we're bankrupting America on stuff like this, I don't know what we'd do without unnecessary military equipment!

— Hannah (@Hannah_husky) March 1, 2018
Wow. Apparently they don't believe prayers will protect families.

— Carrie Tatum (@Epifiny) March 1, 2018
stop masturbating on twitter

— Transgarbo woman (@Herracks) March 1, 2018
The AC-130 has been in active service in the US Air Force for over 50 years. The original fixed-wing aircraft was manufactured by Lockheed Martin before being transformed into a combat aircraft by Boeing: initially as a troop transport (the C-130) then a close air support and armed reconnaissance plane (the AC-130).
READ MORE: New US commander in Afghanistan apologizes for Kunduz hospital bombing
"The Angel of Death was used to flatten most of Indochina, killing millions of people in Vietnam, Cambodia, and Laos," added one user. "The blood lust of the US military is disgusting."
If you like this story, share it with a friend!
Via RT. This piece was reprinted by RINF Alternative News with permission or license.