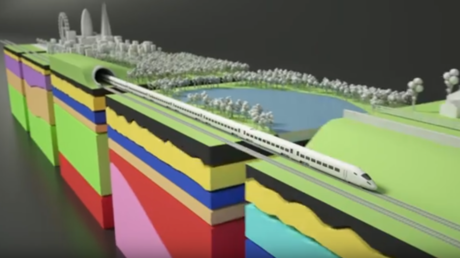 An ancient coastline dating back tens of millions of years has been found at the site of a new high-speed rail network in London. The find is said to have been from a time when the area had a subtropical climate.
A previously unknown soil sample was unearthed some 33 metres below the surface during excavation work for the HS2 rail line in Ruislip, west London. Researchers believe the sample is from the late Paleocene era, around 56 million years ago, a period after the extinction of the dinosaurs and before a rise in the Earth's temperature. It's thought the region was a wooded seaside swamp at the time.
"Although ground investigations regularly take place across the country, it's really exciting and very unusual to come across a material that no-one has ever seen before. The 'Ruislip Bed' discovery is particularly fascinating, as it is a window into our geological history," Dr. Jackie Skipper, a senior geologist from the Geotechnical Consulting Group, said in a statement.
READ MORE: 7,000yo Native American burial site found off Florida coast (PHOTOS, VIDEO)
Instead of the usual sand and gravel, researchers at the site found black clay with vegetation lodged inside it. The sample also showed signs of extreme weathering, according to Skipper. "Suddenly you have got evidence that this is actually the coastline," she told the Guardian. "You have got a three-dimensional vision of what was going on – we've got trees, we've got animals living in the trees, we've got marshes, we've got swamps and we've got very nearby beaches."
The deposits, now dubbed the 'Ruislip bed,' were first found in 2017 and appeared in a number of different spots along a distance of about 10 kilometers of the HS2 route through Ruislip and Northolt. They are up to three feet long in places.
READ MORE: 'Only the beginning': 2,000yo mummies discovered at major Egyptian tombs (VIDEO)
Steve Reynolds, HS2's Ground Investigation Programme Manager added: "We have been exploring the soil and rocks beneath the surface through various methods, ranging from drilling into the ground and taking samples to using radar technology. Our main investigations are almost complete, with over 1 million laboratory tests undertaken on the samples we have taken."
The HS2 is projected to link London with northern and midland cities such as Birmingham, Leeds and Manchester. The initial ground investigation program for phase one of the railway, from London to the West Midlands, will be completed by the end of March.
Via RT. This piece was reprinted by RINF Alternative News with permission or license.