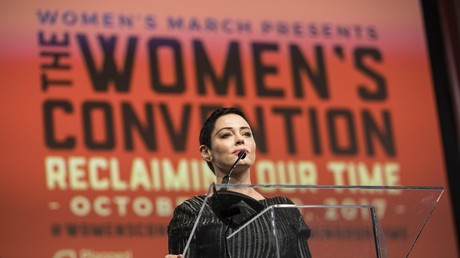 'It's all orchestrated,' says actress Rose McGowan, after Harvey Weinstein handed himself in before the long weekend over claims of rape. McGowan says even handing himself in to police was a method of publicity and control.
Going Underground's Afshin Rattansi sat down with Hollywood sex scandal whistleblower McGowan days after Weinstein was charged with rape and for a criminal sex act. McGowan says Weinstein's arrest was nothing more than a carefully planned method to bury the news story with as little damage to the movie giant's reputation as possible.
"Weinstein got to turn himself in on a Friday afternoon to be arrested on a long weekend… that means his story won't be running all week in the news. It will already be old news by the time next week rolls around after the bank holiday. You know that's all orchestrated," McGowan told RT.
She also hit out at those in Hollywood who stood by and let Weinstein's alleged reign of terror happen.
"The complicity machine is huge [in Hollywood]," she said. "We're talking about an industrial complex… it's one of continually protecting people who aren't that great in the first place. Just cut off the head, the rot, and let other things flourish. We've all worked in those places where it would be so great if it weren't for that one person – get rid of that one person."
McGowan was one of the first women to speak out in October when Weinstein's decades of alleged sexual misconduct and assault broke. He has since been accused by over 60 women over various claims of misconduct and sexual assault.The former Charmed star claims that Weinstein sexually assaulted her in 1997. She claimed that she was sent up to his hotel suite where she thought they were going to have a meeting about her growing career.
The actress alleged that instead, Weinstein pulled her into a room with a jacuzzi and took her clothes off, where she froze "like a statue". He then proceeded to sexually assault her.
Think your friends would be interested? Share this story!
Via RT. This piece was reprinted by RINF Alternative News with permission or license.