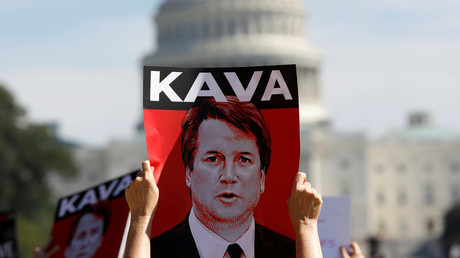 Senate Republican leadership announced that an FBI probe into Supreme Court nominee Brett Kavanaugh has found no evidence to support sexual assault allegations against the judge, and said that a vote will be held on Saturday.
Senate Majority Leader Mitch McConnell and five other Senate Republicans called for the vote after Senators from both sides of the aisle spent the day reviewing the FBI's background investigation into Christine Blasey Ford's sexual assault allegations against Kavanaugh. Republicans and the White House trumpeted the fact that the investigation found no corroborating evidence to Ford's claims, while Senator Dianne Feinstein (D-California) complained that the FBI's probe was not extensive enough.
"What we know for sure is the FBI report did not corroborate any of the allegations against Judge Kavanaugh," McConnell said on Thursday. "The second thing we know for sure is there's no way anything we did would satisfy the Democrats," who keep moving the goalposts, he added.
READ MORE: 'Why don't we dunk him & see if he floats?' Sen. Graham rebuffs Kavanaugh protester
A preliminary vote will now take place on Friday, with a final vote being held on Saturday. Confirming Kavanaugh, Senator Orrin Hatch (R-Utah) said on Thursday would send a message that the "politics of baseless personal destruction has no place" in the Senate. A vote against the judge, Sen. John Cornyn (R-Texas) added "would be a vote for abusing the confirmation process and a good person."
Kavanaugh's confirmation process has been marred by protests and demonstrations in Senate halls. Capitol police stepped up their security presence on Thursday, in anticipation of confrontation. Republican senators were harassed by protesters last week, after the Senate Judiciary Committee voted to advance Kavanaugh's nomination to the Senate, with some of the protesters funded by wealthy liberal organizations.
"I want to make it clear to these people who are chasing my members around the hall here, or harassing them at the airports, or going to their homes," McConnell said Wednesday. "We will not be intimidated by these people. There is no chance in the world that they're going to scare us out of doing our duty."
Once Kavanaugh's confirmation goes to a full Senate vote, Republicans will need to vote almost unanimously to secure his appointment, as the party holds a razor-thin 51-49 majority in the upper house. Senators Jeff Flake (R-Arizona), Susan Collins (R-Maine) and Lisa Murkowski (R-Alaska) had been undecided on Kavanaugh, but Flake and Collins both said on Thursday that the report seemed "thorough," hinting that they would vote to confirm the judge.
On the Democrat side, Sen. Joe Manchin (West Virginia) has said that he will make his mind up based on the results of the FBI probe.
Ford's allegations were accompanied by unverified and salacious claims from two other women, Deborah Ramirez and Julie Swetnick, with the latter accusing Kavanaugh of gang rape in a sworn statement before walking back on the claim in a TV interview. Sen. Cornyn called Democrats' pushing of these stories "a search and destroy mission…not a search for the truth."
Accused by Republicans of running a smear campaign, Democrats' anti-Kavanaugh efforts seem to have united and galvanized Republican voters ahead of November's midterm elections.
According to an NPR poll published Wednesday, 80 percent of Republicans now consider the midterms "very important," up from 68 percent in July. 82 percent of Democrats say the same thing, slightly up from 78 percent in July.
Think your friends would be interested? Share this story!
Via RT. This piece was reprinted by RINF Alternative News with permission or license.