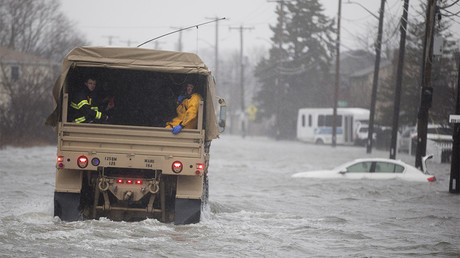 At least six people, including two children, have been killed on the East Coast of the United States after a powerful winter storm slammed the region with strong winds, heavy rain and snow.
A six-year-old boy was killed after a falling tree struck him while he was sleeping in his home in Chesterfield County, Virginia, according to authorities cited by AFP. In the southern Virginia county of James City, a 44-year-old man died when a tree fell on the truck he was traveling in.
Meanwhile, an 11-year-old boy was killed by a falling tree in Putnam Valley, New York. Two more people met the same fate in Rhode Island and Connecticut. The sixth victim was an elderly woman, 77, who was killed after being hit by a large tree branch in Kingsville, Maryland, according to Baltimore County Police and Fire Department.
The East Coast has been pummeled by extreme weather, with Winter Storm Riley leaving more than a foot of snow in the western and northern parts of New York. Heavy rain has descended on coastal areas, resulting in flooding alerts being issued from New Jersey to Massachusetts.
Winter weather advisories, winter storm warnings and high wind warnings are in effect from the Northeast to the Mid-Atlantic, according to the National Weather Service. The state of Massachusetts has seen more than 100,000 power outages, with authorities warning that additional power cuts are likely. Some coastal communities have been ordered to evacuate, with nearby homes expected to receive extensive damage.
The situation has also led to the cancelation of more than 3,000 domestic and international flights, according to the website FlightAware. More than 2,400 others have been delayed.
Ground transportation has also been affected, with Amtrak announcing that all services along the northeast corridor have been suspended for safety reasons. Motorists have also become stranded along the East Coast, and federal government offices in Washington DC have been closed.
Winter Storm Riley is expected to weaken by early Saturday. Until then, residents of the East Coast are being advised to remain cautious and abide by local weather alerts and advisories.
Like this story? Share it with a friend!
Via RT. This piece was reprinted by RINF Alternative News with permission or license.