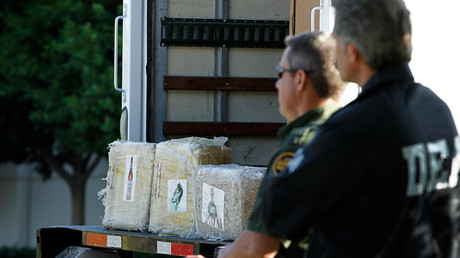 A long-term investigation led to one of the nation's largest seizures of the synthetic opiate fentanyl and a federal indictment against three accused drug traffickers, the US Drug Enforcement Administration (DEA) has said.
Jonathan Ibarra, Hector Fernando Garcia and Anna Baker were charged with fentanyl possession with intent to distribute.
Fentanyl is a Schedule II controlled substance and is 50 times stronger heroin. A lethal dose can be 3 milligrams or less, depending on the tolerance of the user.
"The opioid crisis the country is facing right now makes this indictment all the more important," said San Diego DEA Special Agent in Charge William R. Sherman, announcing the indictments on Monday.
"44.14 kilograms (100 pounds) of fentanyl represents more than 44 million fraudulent pills on the street which could be fatal for users. These dealers are trafficking in death and DEA will continue to hunt them down."
San Diego: Three Defendants Indicted in One of the Nation's Largest-Ever Fentanyl Seizures – Inland Empire Sport https://t.co/ovvwAlkArm

— James Brady (@jimbradyispapa) June 20, 2017
Last November, the defendants discussed having Baker smuggle the drugs over three consecutive days, according to court documents.
Based on that information, authorities pulled over a rental vehicle Baker was driving. Agents seized about 33 pounds of fentanyl. Roughly 66 pounds of the drug were then found in her home when agents served a search warrant, the US attorney's office said.
Fentanyl is a key ingredient in the lollipops given to terminally ill patients for "breakthrough pain" because it is fast-acting and has short-term effects, according to Courthouse News.
Mexican drug cartels produce the drug in labs using precursor chemicals from China, authorities said.
Drug traffickers use the pure fentanyl powder to increase the potency of heroin or to manufacture counterfeit opioid painkillers that resemble oxycodone.
Due to fentanyl's extreme potency, deaths from fentanyl-laced heroin and counterfeit pills have become an epidemic in the United States.
The defendants were arraigned Monday before a US magistrate in San Diego, California.
Via RT. This piece was reprinted by RINF Alternative News with permission or license.