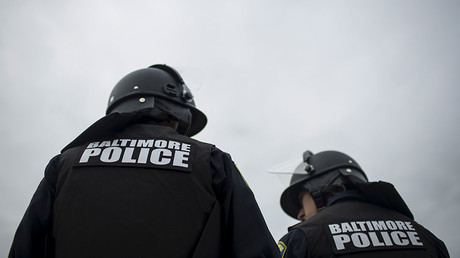 Seven Baltimore police officers arrested for allegedly abusing their power now face federal racketeering conspiracy charges, including robbery, extortion, filing false reports and overtime fraud. One of them has also been charged with dealing drugs.
On Wednesday, the US District Attorney's Office in Maryland announced that the seven officers in a special gun unit of the Baltimore Police Department (BPD) had been arrested after being indicted on multiple racketeering charges. 
The Attorney's Office charged the officers with robbery and extortion between 2015 and 2016 when they were part of the Gun Trace Task Force (GTTF), a specialized unit that investigated firearm violations. 
The indictment charges the officers with stopping, searching and detaining citizens to steal money, property, and drugs from them. Some of the victims had not committed any crimes, the indictment said.
"These defendants were allegedly involved in stopping people who had not committed crimes, and not only seizing money but pocketing it," US Attorney Rod Rosenstein said, according to the Baltimore Sun. "These are really robberies by people wearing police uniforms."
READ MORE: Baltimore cops who shot 14yo holding BB gun should be ID'd – attorneys
The officers were also charged with swearing in false affidavits to obtain search warrants in order to steal property. In one case, they allegedly stole $200,000 from a man they arrested in a traffic stop. After his arrest, the indictment says, the officers entered the victim's house and stole money from the victim's safe.
"They are 1930's-style gangsters as far as I am concerned," Baltimore Police Commissioner Kevin Davis said in a news conference following the arrests, according to WMAR. "The misdeeds and the criminal misconduct they were engaged in shocks me as much as it does anyone in this room."
In an attempt to cover their tracks, the officers allegedly turned off their body cams and submitted false incident reports and arrest reports to conceal the money, property, and drugs they stole.
Finally, the indictment charged the officers with committing overtime fraud for an entire year, nearly doubling the salary of some officers, resulting in a total of about $500,000 extorted from taxpayers.
During the investigation, Rosenstein said his office quietly dropped five federal cases brought by the officers, according to WBAL. 
In a separate case, one of the officers was also charged with conspiracy to distribute and possess with intent to distribute heroin as a part of a drug trafficking organization. The officer also allegedly helped one of the men remove a GPS tracker that had been placed on his vehicle by the US Drug Enforcement Administration.
The officers each face up to 20 years in prison. 
"The police officers charged today with crimes that erode trust with our community have disgraced the Baltimore Police Department and our profession," Baltimore Police Commissioner Kevin Davis said at the news conference on Wednesday.
Via RT. This piece was reprinted by RINF Alternative News with permission or license.