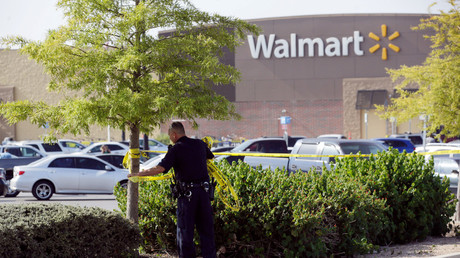 Two people have been wounded and one killed in a shootout outside a Walmart in Washington state, after an armed gunman attempted –but failed– to hijack a car, whose driver also happened to be armed.
The incident, which culminated in a car park at a Walmart in the city of Tumwater, began unfolding at around 5pm local time, when police responded to a call about an alleged drunk driver. While police searched for the suspect, calls began pouring in about shots being fired at a nearby intersection. Additional calls indicated a hijacking had been attempted.
Police said that a 16-year-old girl was injured when the suspect tried to hijack her car. After he failed in the attempt, the suspect, whose name has not been released, headed to a Walmart parking lot where he made another attempt to steal yet another vehicle.
Tumwater spokeswoman says civilian shot and killed suspected gunman/carjacker in parking lot of Tumwater #walmart. Another civilian victim shot and airlifted to Harborview in Seattle. A 16 year old girl shot at a different scene has minor wounds pic.twitter.com/T4zS9ZTLRQ

— Austin Jenkins N3 (@AustinJenkinsN3) June 18, 2018
However, confronted by the car owner who was in possession of his own weapon, the culprit engaged in a gunfight. Seconds later and after multiple shots were fired, the would-be hijacker lay dead, while the driver suffered serious injuries and was airlifted to Harborview Medical Center in Seattle. He is in critical condition, Laura Wohl, spokeswoman for the Tumwater Police Department, told reporters.
BREAKING: Suspect is dead, per Tumwater police. Killed by bystander after suspect attempted car-jacking. Police are investigating 4 scenes as part of afternoon rampage. 2 people shot. One airlifted to Harborview. The second recovering in non-life threatening condition. #komonewspic.twitter.com/gCf1DiKvwY

— Patrick Quinn (@PatrickQuinnTV) June 18, 2018
While police said the shooting happened outside the Walmart, witnesses reported they could hear the shots from inside the store, which caused chaos and panic inside the retail outlet. The police investigation continues. The motive of the culprit remains unknown.
Like this story? Share it with a friend!
Via RT. This piece was reprinted by RINF Alternative News with permission or license.