David Cameron has defended the United Kingdom as the government prepares to put the "facts" about Scottish independence to the public.
The implications of the referendum next Autumn will affect not just Scotland, but England, Wales and Northern Ireland, the Conservative leader said.
He drew on Britain's Olympic glory to evoke an image of a united Britain, saying: "Those glorious Olympics last summer reminded us just what we were capable of when we pull together: Scottish, English, Welsh, Northern Irish, all in the same boat – sometimes literally.
"If you told many people watching those Olympics around the world that we were going to erect barriers between our people, they'd probably be baffled. Put simply: Britain works. Britain works well. Why break it?"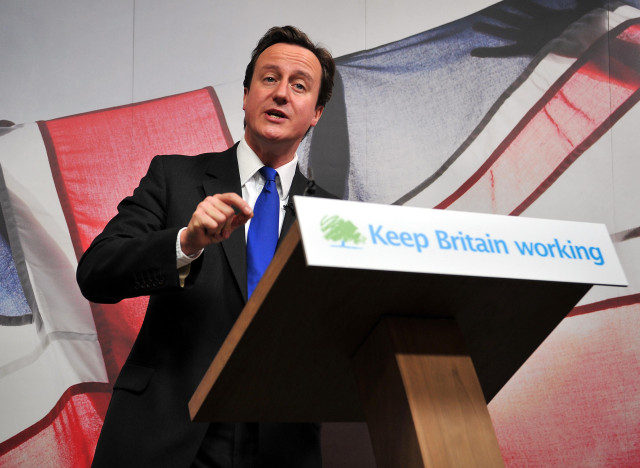 Cameron drew on Olympic glory to suggest breaking up the union would be damaging to Britain
Mr Cameron insisted Scotland was 'better off in Britain' a day before before the UK government publishes the first in a series of analysis papers about Scotland's role in the union.
The analysis comes one week after the Scottish government published a "road map" from the referendum next year to full statehood in early 2016.
Mr Cameron said Britain has built up "world-renowned" institutions such as the NHS and BBC, and "fought for freedom" in two world wars, leaving "unbreakable bonds".
However Nicola Sturgeon, deputy first minister of Scotland, said: "Instead of spelling out a positive case, David Cameron is simply continuing with an entirely negative attack."
Ms Sturgeon added: "By placing himself at the head of the No campaign, David Cameron is simply reminding people that he heads a government that Scotland didn't vote for and that independence is the only way to ensure that Scotland always gets the government it votes for." The referendum will take place in the autumn of 2014
Cameron said despite Scotland's clear ability to govern itself, Scotland is stronger and richer in a union with Britain.
He said:"I have no time for those who say there is no way Scotland could go it alone. I know first-hand the contribution Scotland and Scots make to Britain's success – so for me there's no question about whether Scotland could be an independent nation.
"The real question is whether it should – whether Scotland is stronger, safer, richer and fairer within our United Kingdom or outside it. And here, I believe, the answer is clear." The SNP has published a document outlining how the final transition to independence would take place
Scotland has its own government and parliament in Edinburgh as part of the UK, allowing decisions to be taken that affect daily lives.
Devolved powers include health and education, while Scotland has maintained an independent legal system.
"Scotland within the UK has a system of government that offers the best of both worlds. Why swap Scottish MPs, Scottish cabinet ministers and Scots throughout UK institutions, for one Scottish ambassador in London?"
He criticised the Scottish National Party (SNP) for discussing the final transition to independence before all the facts have been aired. Cameron criticised the SNP for assuming a Yes vote
In the "road-map" publication last week, it was suggested that negotiations between Scottish ministers and the UK Government, European Union and international organisations could be concluded by March 2016, assuming a Yes vote in autumn 2014.
It also set out plans for a written constitution, to be devised by the first parliament and the public, which could outlaw "weapons of mass destruction" in Scotland.
Mr Cameron said: "I know those arguing for independence are already preparing their separation transition plan, as though they've got this in the bag, but to me that is wrong. It's like fast-forwarding to the closing credits before you've been allowed to see the movie.
"The Scottish people still have many months to think about this decision and they are hungry for facts, evidence and expert opinion to help them make up their minds. Supporters attend a rally for Scottish Independence in Princess Street Gardens, Edinburgh,
"As one of Scotland's two governments, the UK government has a duty to help inform people with hard facts. So we'll be providing expert-based analysis to explain Scotland's place within the UK and how it might change with separation – and our first paper is published tomorrow.
"We don't shy away from putting facts and evidence before the Scottish people. We want you to scrutinise, challenge and form your own opinion. This must not be a leap in the dark, but a decision made in the light of day.
"This big question is for Scotland to decide. But the answer matters to all of our United Kingdom. Scotland is better off in Britain. We're all better off together and poorer apart."
Sturgeon said: "The Electoral Commission has called on both sides of the independence debate to provide more information to the people of Scotland and to work together to discuss what will happen in the wake of the referendum.
"We have agreed with the Electoral Commission and published information about the transition to independence following a Yes vote.
"The Prime Minister's remarks suggest he is ignoring the Electoral Commission's advice – despite the previous calls of the Westminster government for the Scottish Government to follow their advice.