34 percent say they would rather pay the penalty
An overwhelming number of Americans who are without health insurance say they are still unfamiliar with the Healthcare.gov website, despite the federal government's requirement that every person obtain insurance by January 1st, a new Gallup poll shows.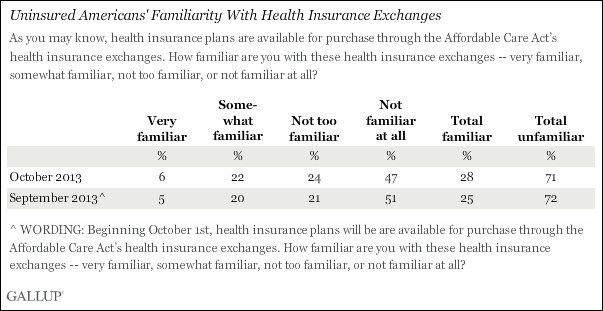 An astounding 71 percent of people polled said they are unfamiliar with the website, which is probably a good thing given that the site is still suffering from major glitches.
"At the same time, 28% of uninsured Americans say they are very or somewhat familiar with the exchanges, up slightly from 25% last month," Gallup reports.
Another poll found that roughly a quarter of the country is still unaware of the federal requirement to purchase health insurance.

The notion behind having the entire nation mandatorily purchase health insurance was that it would reduce the cost of coverage for everyone.
But as we have documented, many say their premiums as well as their deductibles have skyrocketed since the online marketplace opened, leading analysts to speculate that the glitches were orchestrated as part of a deliberate effort to prevent Americans from rising up after seeing that their rates have actually increased, in some cases doubling and even tripling.

Still, there are plenty of Americans who believe it would be cheaper just to weather the penalty, and they're right.
The most cost-effective plan available to citizens of Austin, for instance, is the "catastrophic" coverage offered by Humana Health Plan of Texas. At an estimated cost of $109.03 a month, the cost of yearly coverage works out to just over $1,300. Compared to the $95 penalty fee, healthy Americans who rarely make doctors' visits likely see this as a no brainer.
In accordance with that belief, 34 percent of Americans in October said they would rather pay the fine than get insurance, according to Gallup.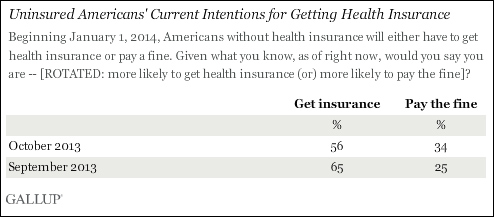 Given Americans' indifference with the Obamacare law, is it any wonder the government has enlisted the likes of NBC to help pitch healthcare in their shows?