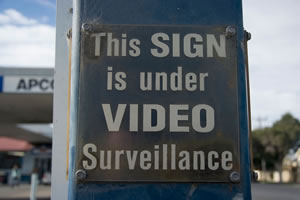 Image by lonely radio
Last week (2nd May), in the midst of Privacy Awareness Week [1], an Australian campaigner, Adam Bonner won a landmark decision against CCTV cameras in New South Wales [2]. The decision did not rule that the cameras in the town of Nowra should be switched off, but instead ordered the local council to stop breaching the Information Protection Principles of the Privacy and Personal Information Protection Act. Remedies were suggested by the Privacy Commissioner but suffice to say Shoalhaven council has switched the cameras off whilst deciding its next move.
The decision of the Administrative Decisions Tribunal New South Wales ordered that:
1. The Council is to refrain from any conduct or action in contravention of an information protection principle or a privacy code of practice;

2. The Council is to render a written apology to the Applicant for the breaches, and advise him of the steps to be taken by the Council to remove the possibility of similar breaches in the future.
[SF v Shoalhaven City Council [2013] NSWADT 94, Orders]
The court victory is evidence once again that CCTV is a local issue which can be defeated when local people take action. In this case a single campaigner took on his local council, and won.
The Road to Victory
Back in late 2009, Mr Bonner saw an article in a local newspaper detailing Shoalhaven City Council's plans to install 18 CCTV cameras in the Nowra Central Business District (CBD). Mr Bonner felt uneasy, he didn't think it was right for CCTV cameras to watch and record him and others when they visited Nowra city centre to go about their lawful business. But he didn't just wait for someone else to do something, he took action himself to defend his and other residents' freedoms.
Over and above his instinctive reaction to the cameras, Mr Bonner found the many studies that show CCTV is not an effective crime fighting tool [3]. He asked the local council to conduct an internal review of conduct under the Privacy and Personal Information Act 1998 (PPIP Act) and he called on other residents to contact Shoalhaven council pointing out to them the many flaws of the CCTV scheme — he wrote:
There is also something very unsavoury about a society that puts more value on seeking retribution and

This article originally appeared on : Global Research