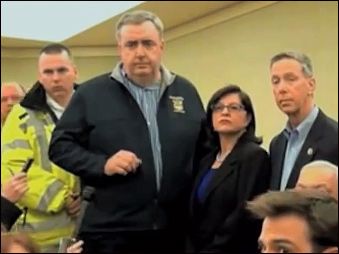 Boston Globe
Sept. 23, 2013
Commissioner Davis takes questions in aftermath of Boston bombing.
Commissioner Edward F. Davis, whose seven-year tenure leading the Boston Police Department has been marked by falling violent crime rates and seared by the Marathon bombings in April, will announce Monday that he is resigning, and he will pursue a fellowship at Harvard University, according to a person with knowledge of his plans.
Davis will leave his post in the next 30 to 60 days, his spokeswoman said, just as Mayor Thomas M. Menino's tenure is ending. The departure comes as some mayoral candidates have faulted Davis for what they see as his insufficient effort to diversify the police department.
In a statement, Menino thanked Davis for his "tremendous work over the past seven years," and said he would work with Davis to appoint an interim police commissioner until a new mayor picks a permanent replacement.
This article was posted: Monday, September 23, 2013 at 9:06 am
Tags: domestic news
---
---
---
---
<!– this is where we need to show the related articles
–>
Copyright: Infowars